Think all Tahoe has to offer is hiking and swimming? Think again! When the summer sun shines brightly over the majestic Sierra Nevada Mountains, Lake Tahoe becomes a paradise for outdoor enthusiasts and nature lovers. Known for its pristine blue waters and picturesque landscapes, this idyllic destination offers a plethora of healthy and fun activities in and around the lake  that will leave you invigorated and rejuvenated. Sierra Smiles Complete Health Dentistry is happy to guide you through an adventure-filled summer in Tahoe, providing you with a curated list of activities that promote wellness, outdoor exploration, and unforgettable memories.
Biking Adventures:
Tahoe is a cyclist's paradise, offering a variety of scenic biking trails suitable for different skill levels. Some of our favorites are the Tahoe Rim Trail—A world-class 165-mile trail encircling the lake, providing breathtaking views of the surrounding peaks and shimmering waters, and the Flume Trail that takes you along the ridgeline with jaw-dropping vistas of Lake Tahoe below.
Yoga and Wellness Retreats:
Tahoe's serene beauty makes it an ideal destination for wellness retreats and outdoor yoga sessions. Many resorts and studios offer classes that allow you to rejuvenate your mind, body, and soul amidst nature's tranquility. Imagine practicing yoga on the shores of Lake Tahoe or meditating in a peaceful forest clearing!
Rock Climbing and Bouldering:
Tahoe is a haven for rock climbers, offering an array of granite cliffs and boulders for climbers of all abilities. Lover's Leap , Phantom Spires, and Sugarload Rock are all popular climbing areas in South Lake Tahoe that provide stunning views and exhilarating challenges. If you're new to rock climbing, guided tours and lessons are available to help you get started safely.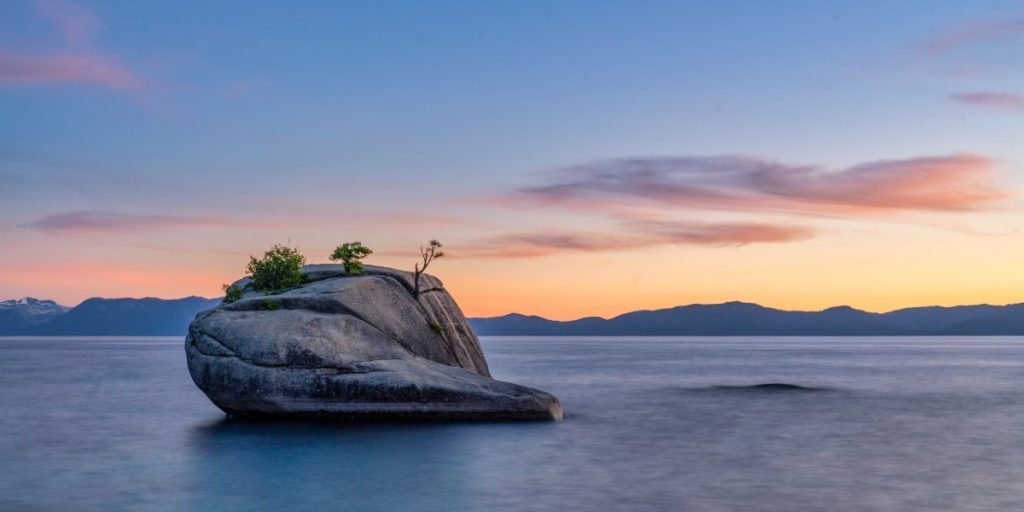 Golfing:
For those who enjoy a round of golf, Tahoe boasts several world-class golf courses. Imagine teeing off against a backdrop of lush green fairways, majestic mountains, and sparkling blue waters. Edgewood Tahoe Golf Course  offers incredible views of the lake, and Lake Tahoe Golf Course is a Certified Audubon Cooperative Sanctuary–both offer a memorable golfing experience in a breathtaking setting. (Bonus–Edgewood Golf Course is just 10 minutes away from our office!)
Wildlife Viewing and Photography:
Tahoe's pristine wilderness is home to an abundance of wildlife. Take a leisurely stroll or join a guided tour to explore the natural habitats of animals such as black bears, mule deer, bald eagles, and ospreys. Capture stunning photographs of these majestic creatures in their natural environment, creating lasting memories of your Tahoe summer adventure.
Sunset Cruises and Beach Bonfires:
As the day winds down, treat yourself to a magical experience by embarking on a sunset cruise on Lake Tahoe. Witness the sky ablaze with hues of orange, pink, and purple as the sun sets over the mountains. Afterward, head to one of the many designated beach bonfire areas and cozy up around a crackling fire with friends or family. Roast marshmallows, share stories, and revel in the beauty of the starry night sky.
As you embark on your summer adventure in Tahoe, it's important to prioritize your overall health, including dental care. Luckily, Sierra Smiles is here to ensure that your smile stays as bright as the summer sun. Serving the Tahoe area, Sierra Smiles offers comprehensive dental services, from routine check-ups and cleanings to cosmetic procedures and restorative treatments. Their team of skilled professionals is dedicated to providing exceptional care in a comfortable and welcoming environment. So, while you indulge in the outdoor wonders of Tahoe, remember to take care of your dental health with Sierra Smiles. With a radiant smile, you'll be ready to make the most of your summer adventures in this breathtaking destination.  Happy exploring!